pfSense operazioni schedulate con Cron via interfaccia WEB
domenica 9 Giugno 2019, 12:08

Con pfSense sono disponibili moltissimi strumenti "package" che agevolano la configurazione e il mantenimento del sistema.
Tra questi è presente "Cron" che permette di modificare via interfaccia web la configurazione del crontab del sistema operativo (BSD).
Per installare un package è sufficiente selezionare dal menù "System/Package Manager/Available Package/" scrivere nel campo di ricerca il package desiderato ed installarlo, in questo caso "cron".
Una delle applicazioni più comuni da schedulare è il riavvio periodico del sistema.
Una volta installato "cron" se volessimo riavviare il sistema tutte le notti sarebbe sufficiente creare via interfaccia un nuovo cron job selezionando dal menù "service/cron"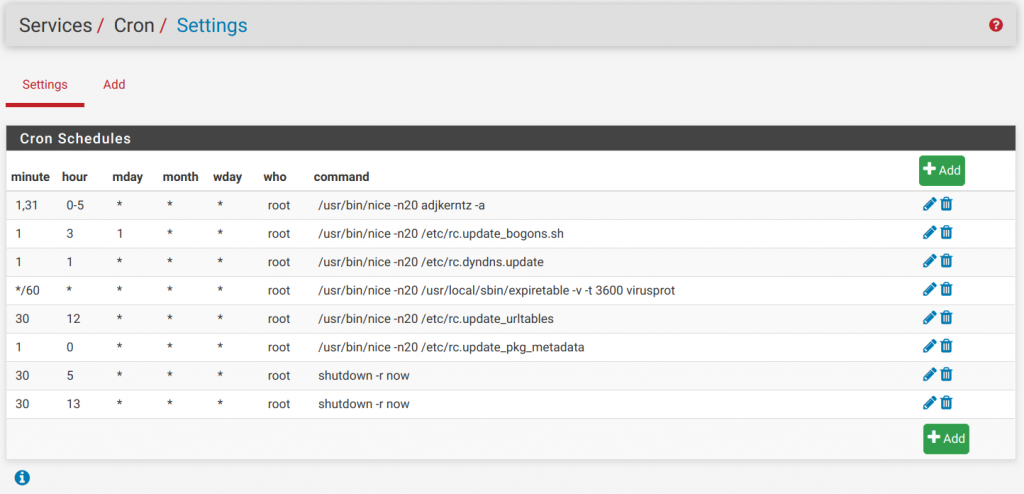 Cliccando su "+Add" possiamo configurare il nostro job come ad esempio: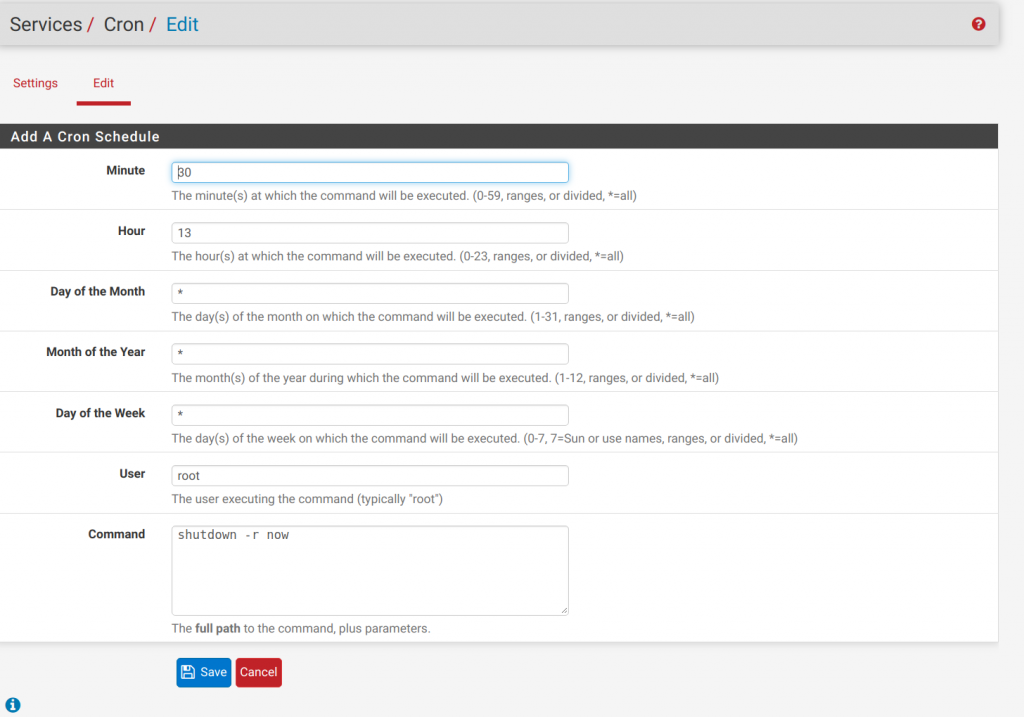 in cui tutte le mattine alle 05.30 eseguo il reboot del firewall in ufficio.
Creando degli script più complessi si potrebbe rendere condizionale anche il reboot ad esempio potremmo esegurlo solo se fancendo ping a google.com non otteniamo risposta.
Firebird Performance Tour 2019 – Prague
martedì 4 Dicembre 2018, 12:21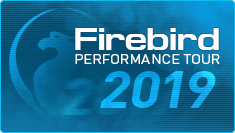 Synaptica has always adopted Firebird as its main database environment for the realization of many solutions from embedded iot products to Web solutions with thousands of daily accesses.
Firebird proved to be a great tool, flexible and easy to manage. For this reason we could not miss the appointment to meet the creators (Dmitry Yemanov, Dmitry Kuzmenko, Alexey Kovyazin) and have the latest news on the future of this wonderful RDBMS.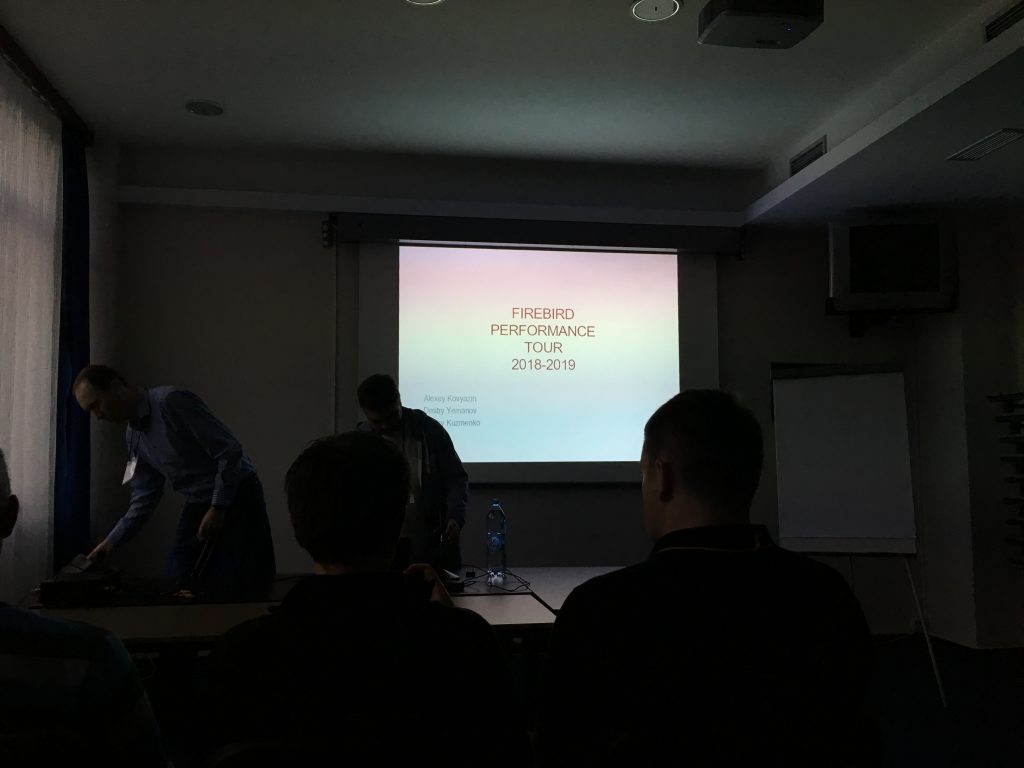 During the conference we talked about:
The future of Firebird and the new features that will be introduced in version 4.x
How to optimize firebird performance simply at the SQL level by evaluating its impacts on the execution algorithm.
Visions on the live-replication system that allows you to create live replicas of your database
Seizing the opportunity we have pututo to visit a really beautiful city (Prague).
smartFB a free tool for Interbase & Firebird
mercoledì 31 Ottobre 2018, 22:48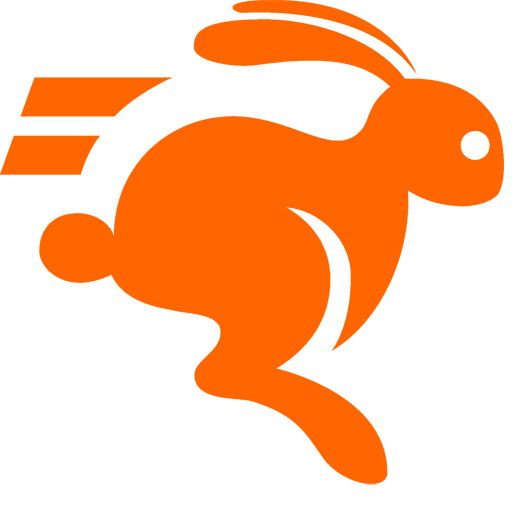 SmartFB is a free SQL client for Interbase and Firebird made for internal / educational use.
As we think it will be useful we decided to make it available for download.
It is in "beta" version, but I think it could be useful, so you can download it from the following links:
– Download Windows 32bit Installer
– Download portable version
Firebird 3.0 & Ubuntu Server 18.04
lunedì 29 Ottobre 2018, 20:13
Primo test di porting database alla versione Firebird 3.0 che è la versione ufficialmente afficancata ai pacchetti di distribuzione standard di Ubuntu nella versione LTS attuale 18.04.
Le differenze tra la versione 3.0 di FB e le precedenti sono moltissime.
Ma i passaggi sono abbastanza semplici per effettuare il porting dalle versioni precedenti alla attuale e consistono in :
1) Preparare il nuovo ambiente FB 3.0 su una macchina nuova
2) Configurare firebird.conf in modo che risponda in rete sul nuovo sistema
2.5) *Abilitare la connessione "legacy" a firebird (quella vecchia senza crittografia) per non dover modificare i programmi già realizzati
3) Effettuare il bk dei DB e trasferirli sul nuovo sistema e Eseguire il restore dei DB con il solito "gbak"
4) veriufica se funziona da remoto Divertiti con FB 3.0
Sorgenti di info importanti per procedere:
io ho usato anche lo ozioni -username e -password esplicitate in chiaro nel comansdo gbak
1) Prepara il nuovo ambiente
https://help.ubuntu.com/community/Firebird3.0
2) Configurare firebird.conf in modo che risponda in rete sul nuovo sistema
https://superuser.com/questions/814879/firebird-cant-connect-to-host
You have to edit file "/etc/firebird/3.0/firebird.conf" and comment the line:
RemoteBindAddress = localhost
Like this
#RemoteBindAddress = localhost
2.5) *Abilitare la connessione "legacy" a firebird (quella vecchia senza crittografia) per non dover modificare i programmi già realizzati
https://firebirdsql.org/file/documentation/release_notes/html/en/3_0/rnfb30-compat-legacyauth.html
https://firebirdsql.org/file/documentation/release_notes/html/en/3_0/rnfb30-compat-legacyauth.html
guide varie consultate sullo stesso argomento:
https://ptfrontline.wordpress.com/2016/04/21/steps-to-upgrade-firebird-v2-5-x-to-version-3-0-0-on-windows/
3) Effettuare il bk dei DB e trasferirli sul nuovo sistema e Eseguire il restore dei DB con il solito "gbak"
bk restore dei DB :
https://firebirdsql.org/manual/gbak-recipies.html
https://www.firebirdsql.org/manual/gbak-restore.html
tux

>

# Backup the database.

tux

>

gbak

-

backup

employee

/

backups

/

employee

.

fbk

tux

>

# Restore the database.

tux

>

gfix

-

shut

-

tran

60

employee

tux

>

gbak

-

replace

/

backups

/

employee

.

fbk

employee
4) veriufica se funziona da remoto Divertiti con FB 3.0
verifica se la porta di FB è presente tra le porte in ascolto del nuovo sistema:
verifica se FB3 sta girando:
prima connessione in locale con "isql-fb"
https://www.firebirdsql.org/pdfmanual/html/isql-commands.html
List of all selected checkboxes into a JSON string
giovedì 11 Ottobre 2018, 20:45
Add class to checkbox
<div>

<input

type

=

"checkbox"

value

=

"1"

class

=

"myChk"

>

Value 1

</div>

<div>

<input

type

=

"checkbox"

value

=

"2"

class

=

"myChk"

>

Value 2

</div>

<div>

<input

type

=

"checkbox"

value

=

"3"

class

=

"myChk"

>

Value 3

</div>

<div>

<input

type

=

"checkbox"

value

=

"4"

class

=

"myChk"

>

Value 4

</div>

<div>

<input

type

=

"checkbox"

value

=

"5"

class

=

"myChk"

>

Value 5

</div>
Create a function to return a JSON string
1

2

3

4

5

6

7

8

9

10

11

12

13

14

15

16

17

18

19

20

21

22

23

24

var

arrLen

=

$

(

'.myChk'

)

.

length

;

for

(

var

i

=

0

;

i

<

arrLen

;

i

++

)

{

arrAn

.

push

(

{

"myVal"

:

w

.

value

}

)

;

var

myJsonString

=

JSON

.

stringify

(

arrAn

)

;

//convert javascript array to JSON string

console

.

log

(

'result'

+

myJsonString

)

;
Here an example
Syncronize date time with internet service with Ubuntu 18.04
domenica 30 Settembre 2018, 17:57
Setting date time daemon and timezone of my locale on my ubuntu 18.04 servers:
Install NTP daemon:
Configure your locale time zone by checking the list:
timedatectl

list

-

timezones
In my case:
sudo

timedatectl

set

-

timezone

Europe

/

Rome