Delphi – Indy idTCPServer and idTCPClient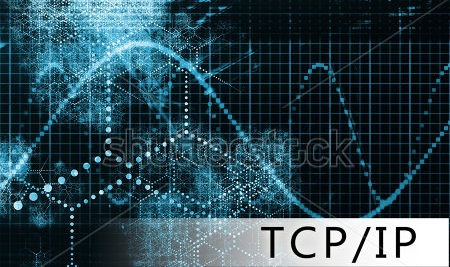 This is a simple example for usign Nevrona Indy components in Delphi to create a small server application using TCP/IP protocol. TO simplify we can build an example where there is a Server Application that recive a string from a Client App. and then return that string to the Client , but we use streams to do that because the example can be reused to trasmit anithing else via stream.
In this example we use the TStringStream class that have TStream as ancestor and is very simple to use with strings.
Start with Delphi and create a simple form application , now we drag the TidTCPServer component on the main form , now we need to decide wich free TCP port for this service , in this app we use 9099 port. , here the simple source of Server App.:
1

2

3

4

5

6

7

8

9

10

11

12

13

14

15

16

17

18

19

20

21

22

23

24

25

26

27

28

29

30

31

32

33

34

35

36

37

38

39

40

41

42

43

44

45

46

47

48

49

50

51

52

53

54

55

56

57

58

59

60

61

62

63

64

65

66

67

68

69

70

71

72

73

74

75

76

77

78

79

80

81

82

83

84

85

86

87

88

89

90

91

92

93

94

95

96

97

98

99

100

101

102

103

104

105

106

107

108

109

110

111

112

113

114

115

116

117

118

119

120

121

122

123

124

125

126

127

128

129

130

131

132

133

134

135

136

137

138

139

140

141

142

143

144

145

146

147

148

149

150

151

152

153

154

155

156

157

158

159

160

161

162

163

164

165

166

167

168

169

170

171

172

173

174

175

176

177

178

179

180

181

182

183

184

185

186

187

188

189

190

191

192

193

194

195

196

197

198

199

200

201

202

203

204

205

206

207

208

209

210

211

212

213

214

215

216

217

218

Windows

,

Messages

,

SysUtils

,

Variants

,

Classes

,

Graphics

,

Controls

,

Forms

,

Dialogs

,

IdBaseComponent

,

IdComponent

,

IdTCPServer

,

StdCtrls

,

Buttons

,

IdSocketHandle

,

IdServerIOHandler

,

IdServerIOHandlerSocket

,

IdUDPBase

,

IdUDPServer

,

IdAntiFreezeBase

,

IdAntiFreeze

,

IdMappedPortTCP

,

IdThreadMgr

,

TServer_Form

=

class

(

TForm

)

TCP_Server

:

TIdTCPServer

;

Start_Server_Button

:

TSpeedButton

;

Stop_Server_Button

:

TSpeedButton

;

IdAntiFreeze1

:

TIdAntiFreeze

;

SpeedButton1

:

TSpeedButton

;

IdThreadMgrDefault1

:

TIdThreadMgrDefault

;

ckVideoResult

:

TCheckBox

;

procedure

FormCreate

(

Sender

:

TObject

)

;

procedure

Start_Server_ButtonClick

(

Sender

:

TObject

)

;

procedure

Stop_Server_ButtonClick

(

Sender

:

TObject

)

;

procedure

FormClose

(

Sender

:

TObject

;

var

Action

:

TCloseAction

)

;

procedure

TCP_Server__Connect

(

AThread

:

TIdPeerThread

)

;

procedure

TCP_ServerExecute

(

AThread

:

TIdPeerThread

)

;

procedure

TCP_ServerNoCommandHandler

(

ASender

:

TIdTCPServer

;

const

AData

:

String

;

AThread

:

TIdPeerThread

)

;

procedure

TCP_ServerConnect

(

AThread

:

TIdMappedPortThread

)

;

procedure

SpeedButton1Click

(

Sender

:

TObject

)

;

procedure

FormCloseQuery

(

Sender

:

TObject

;

var

CanClose

:

Boolean

)

;

procedure

TCP_ServerDisconnect

(

AThread

:

TIdPeerThread

)

;

procedure

ShowClientsConnected

;

function

StopTheServer

:

Boolean

;

Server_Form

:

TServer_Form

;

procedure

TServer_Form

.

FormCreate

(

Sender

:

TObject

)

;

Start_Server_ButtonClick

(

Nil

)

;

ListaClient

:

=

TList

.

Create

;

procedure

TServer_Form

.

Start_Server_ButtonClick

(

Sender

:

TObject

)

;

var

Loc_Binding

:

TIdSocketHandle

;

if

TCP_Server

.

Active

then

begin

TCP_Server

.

DefaultPort

:

=

9099

;

if

ListBox1

.

Items

.

Count

&

gt

;

10

then

ListBox1

.

Items

.

Delete

(

0

)

;

if

TCP_Server

.

Active

then

ListBox1

.

Items

.

Add

(

'Server started .... '

+

TCP_Server

.

Bindings

.

Items

[

0

]

.

IP

+

':'

+

IntToStr

(

TCP_Server

.

Bindings

.

Items

[

0

]

.

Port

)

)

;

ListBox1

.

Items

.

Add

(

'ERROR. Cannot start server .... '

)

;

ListBox1

.

Items

.

Add

(

'ERROR. Setting-up server .... '

)

;

procedure

TServer_Form

.

Stop_Server_ButtonClick

(

Sender

:

TObject

)

;

if

not

TCP_Server

.

Active

then

Exit

;

TCP_Server

.

Active

:

=

False

;

procedure

TServer_Form

.

FormClose

(

Sender

:

TObject

;

var

Action

:

TCloseAction

)

;

if

Action

=

caFree

then

begin

if

TCP_Server

.

Active

then

begin

Stop_Server_ButtonClick

(

Nil

)

;

procedure

TServer_Form

.

TCP_Server__Connect

(

AThread

:

TIdPeerThread

)

;

if

ListBox2

.

Items

.

Count

&

gt

;

10

then

ListBox2

.

Items

.

Delete

(

0

)

;

ListBox2

.

Items

.

Add

(

'Client is connected from '

+

AThread

.

Connection

.

Socket

.

Binding

.

IP

+

':'

+

IntToStr

(

AThread

.

Connection

.

Socket

.

Binding

.

Port

)

)

;

// imposto un buffer piccolo

AThread

.

Connection

.

RecvBufferSize

:

=

65536

div

4

;

AThread

.

Connection

.

SendBufferSize

:

=

65536

div

4

;

ListaClient

.

Add

(

AThread

)

;

// Execute è il metodo principe , che intercetta le chiamate dei Client

procedure

TServer_Form

.

TCP_ServerExecute

(

AThread

:

TIdPeerThread

)

;

Ms

:

=

TStringStream

.

Create

(

''

)

;

AThread

.

Connection

.

ReadStream

(

Ms

)

;

if

ckVideoResult

.

Checked

then

ListBox2

.

Items

.

Add

(

AThread

.

Connection

.

Socket

.

Binding

.

IP

+

' --> '

+

Data

)

;

ListBox2

.

Items

.

Add

(

'Errore [1]: '

+

E

.

Message

)

;

If

ckAutoReply

.

Checked

then

MS

:

=

TStringStream

.

Create

(

'Giovanni dice : '

+

Data

)

;

AThread

.

Connection

.

WriteStream

(

MS

,

True

,

True

)

;

//Resp := TClientManager(AThread.Data).CommandParser(Data,True);

ListBox2

.

Items

.

Add

(

'Errore [2]: '

+

E

.

Message

)

;

// Sending a string to all connected clients

procedure

TServer_Form

.

SpeedButton1Click

(

Sender

:

TObject

)

;

TCP_Server

.

Threads

.

LockList

;

for

i

:=

0

to

ListaClient

.

Count

-

1

do

MS

:

=

TStringStream

.

Create

(

'Invio massivo dati'

)

;

TIdPeerThread

(

ListaClient

[

i

]

)

.

Connection

.

WriteStream

(

MS

,

True

,

True

)

;

TCP_Server

.

Threads

.

UnlockList

;

procedure

TServer_Form

.

FormCloseQuery

(

Sender

:

TObject

;

Try

TCP_Server

.

Active

:

=

False

;

Except

End

;

procedure

TServer_Form

.

TCP_ServerDisconnect

(

AThread

:

TIdPeerThread

)

;

ListaClient

.

Remove

(

AThread

)

;
The Client application is simple too, we create another app with delphi and drag the TidTCPClient specifing the same TCP port of the server and the addrres of the server :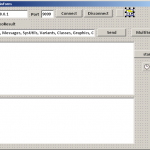 1

2

3

4

5

6

7

8

9

10

11

12

13

14

15

16

17

18

19

20

21

22

23

24

25

26

27

28

29

30

31

32

33

34

35

36

37

38

39

40

41

42

43

44

45

46

47

48

49

50

51

52

53

54

55

56

57

58

59

60

61

62

63

64

65

66

67

68

69

70

71

72

73

74

75

76

77

78

79

80

81

82

83

84

85

86

87

88

89

90

91

92

93

94

95

96

97

98

99

100

101

102

103

104

105

106

107

108

109

110

111

112

113

114

115

116

117

118

119

120

121

122

123

124

125

126

127

128

129

130

131

132

133

134

135

136

137

138

139

140

141

142

143

144

145

146

147

148

149

150

151

152

153

154

155

156

157

158

159

160

161

162

163

164

165

166

167

168

169

170

171

Windows

,

Messages

,

SysUtils

,

Variants

,

Classes

,

Graphics

,

Controls

,

Forms

,

Dialogs

,

IdBaseComponent

,

IdComponent

,

IdTCPConnection

,

IdTCPClient

,

StdCtrls

,

IdUDPBase

,

IdUDPClient

,

ExtCtrls

,

IdIntercept

,

IdSocks

,

IdIOHandlerSocket

,

IdIOHandler

,

IdIOHandlerStream

;

TCP_Client

:

TIdTCPClient

;

ckVideoResult

:

TCheckBox

;

procedure

Connect_ButtonClick

(

Sender

:

TObject

)

;

procedure

FormCreate

(

Sender

:

TObject

)

;

procedure

btnDisconnectClick

(

Sender

:

TObject

)

;

procedure

Button1Click

(

Sender

:

TObject

)

;

procedure

TCP_ClientConnected

(

Sender

:

TObject

)

;

procedure

TCP_ClientDisconnected

(

Sender

:

TObject

)

;

procedure

btnMultiSendClick

(

Sender

:

TObject

)

;

procedure

Timer1Timer

(

Sender

:

TObject

)

;

procedure

btn_startTimerClick

(

Sender

:

TObject

)

;

procedure

TForm1

.

Connect_ButtonClick

(

Sender

:

TObject

)

;

if

TCP_Client

.

Connected

then

begin

TCP_Client

.

Host

:

=

Host_Address

.

Text

;

TCP_Client

.

Port

:

=

StrToInt

(

Host_Port

.

Text

)

;

TCP_Client

.

Connect

(

1000

)

;

ListBox1

.

Items

.

Add

(

'ERROR trapped while trying to connect'

)

;

procedure

TForm1

.

FormCreate

(

Sender

:

TObject

)

;

Left

:

=

Screen

.

Width

-

Width

-

30

;

//FormStyle:=fsStayOnTop;

procedure

TForm1

.

btnDisconnectClick

(

Sender

:

TObject

)

;

if

TCP_Client

.

Connected

then

begin

procedure

TForm1

.

Button1Click

(

Sender

:

TObject

)

;

if

TCP_Client

.

Connected

then

begin

MS

:

=

TStringStream

.

Create

(

Edit1

.

Text

)

;

TCP_Client

.

WriteStream

(

MS

,

true

,

true

)

;

if

ckVideoResult

.

Checked

then

ListBox1

.

Items

.

Add

(

'Sent ....: '

+

MS

.

DataString

)

;

MS

:

=

TStringStream

.

Create

(

''

)

;

TCP_Client

.

ReadStream

(

MS

)

;

if

ckVideoResult

.

Checked

then

ListBox1

.

Items

.

Add

(

'Recived ....: '

+

MS

.

DataString

)

;

procedure

TForm1

.

TCP_ClientConnected

(

Sender

:

TObject

)

;

ListBox2

.

Items

.

Add

(

'On Conneted'

)

;

pnlSemaforo

.

Color

:

=

clLime

;

procedure

TForm1

.

TCP_ClientDisconnected

(

Sender

:

TObject

)

;

pnlSemaforo

.

Color

:

=

clRed

;

procedure

TForm1

.

btnMultiSendClick

(

Sender

:

TObject

)

;

I

:

=

StrToInt

(

InputBox

(

'Nr. di comunicazioni : '

,

'Nr. di comunicazioni : '

,

'100'

)

)

;

ShowMessage

(

'Millisecondi totali: '

+

IntToStr

(

DateUtils

.

MilliSecondsBetween

(

n1

,

n2

)

)

+

' millisecondi per operazione:'

+

IntToStr

(

DateUtils

.

MilliSecondsBetween

(

n1

,

n2

)

div

I

)

)

;

procedure

TForm1

.

Timer1Timer

(

Sender

:

TObject

)

;

if

TCP_Client

.

Connected

then

MS

:

=

TStringStream

.

Create

(

''

)

;

TCP_Client

.

ReadStream

(

MS

)

;

if

ckVideoResult

.

Checked

then

ListBox1

.

Items

.

Add

(

'Recived ....: '

+

MS

.

DataString

)

;

procedure

TForm1

.

btn_startTimerClick

(

Sender

:

TObject

)

;