ZK Calendar is ready !!!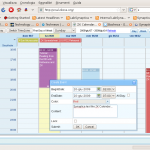 Some week ago, we were pleased to view a preview of ZK Calendar from zkoss web site… it was vary complete tool for planning systems.
Now it is ready to download from Zkoss.org following this link.
Just now i've tried the live demo and it appear very smart to use and fast.
It appears very complete tool that can be used for professional planning application, we wanna try to integrate it in our shareteam application replacing the existent DHTML Goodies Planner integrated with ZK too .
please tell us your impression about that, tnkx
ivan