FlameRobin 0.9.0 released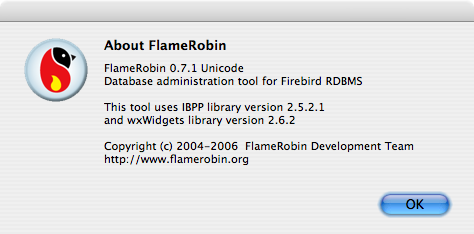 FlameRobin is an open source and cross platform database administration tool for Firebird DBMS.
some info :
Project Site : http://www.flamerobin.org/
Dev.Tools/Lang : C++
download site : http://sourceforge.net/project/showfiles.php?group_id=124340&package_id=136187&
(high lights) New features
– 100% Firebird 2.1 compatible
– Tab-based property pages for database object (like Firefox browser)
– DataGrid: load and save to file options for BLOB data.
– A new, improved dialog for inserting new rows.
buon vento
ivan